View of our route, courtesy of Google Earth, looking north. The Potrero John Trail is yellow; the trail from Potrero John Camp to St Loomis Falls is red.

Same as the previous image, only from furthr away so you can see Reyes Peak and the Chorro Grande Trail (blue line on the left side).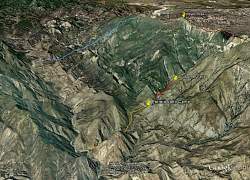 View of our route from the south-east.