Google Earth view of our work area, looking north-west. The CORBA crew worked the bottom (green) and the Trails Council crew worked the top (yellow) of this 2.5-mile long segment of the Backbone Trail. Mulholland Hwy (23-S) is at the bottom of the image. The trail ends at Etz Meloy Motorway. On the far side of the Etz Meloy ridge is Hidden Valley, then Thousand Oaks and Camarillo farther on.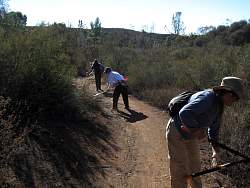 Some of the 13 CORBA volunteers working near the bottom of the trail. Unfortunately, I have no photos of the 6-8 volunteers from the Santa Monica Trails Council who were working from the top of the trail.

Ten of the CORBA volunteers were working to remove brush growing at the side of the trail.

Three from CORBA worked to clear out the drains that were blocked by silt and other debris that had built up over the years.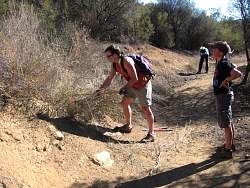 The standard for clearing brush is that the trail corridor (the brush-free zone) should be 8' wide and 10' high. That means about 2-3' at the side of the trail should be free of brush. This helps approaching trail users see each other. Also, it means that the brush will take a couple of years before it again impinges on the trails since it grows depressingly quickly after the winter rains.