Malibu Creek State Park Area

View of Century Lake from the Lookout Trail, above Crags Road.
Malibu Creek State Park and the connecting trails have something for everyone. There are novice trails here, as well as one of the most demanding. The trails in the park proper are generally quite easy because they wind through the valleys and don't have a lot of climbing, but neither are they dead flat and boring. Since they have mountains on at least one side at all times, the scenery is always more than pleasant and frequently spectactular. And from the park you can get to the Backbone Trail, the holy grail of trails in the Santa Monica Mountains. Connecting them is the imfamous Bulldog Motorway - you either love it or hate it - as it climbs 1750 feet from the valley floor to the Castro Motorway on Castro Ridge.
This area has a rich history of providing backdrops to distant places for Hollywood, from silent films to the most well-known use, the filming of the movie and TV series M*A*S*H in the 1970's. Many other shows were made here as well.
The trails of Malibu Creek State Park connect to many of the trails in Calabasas through the Las Virgenes View Trail which starts a few hundred yards from where Grasslands Trail crosses Mulholland Hwy.
Deciding which trails to include in this section of the trails guide was somewhat arbitrary as the Backbone Trail continues westward from what is shown here to Kanan Road, Zuma Ridge, Decker Road (23 South) and beyond. In the end, the split was made based partly on what trails connect to make good rides (although at the cost of breaking up the Backbone from Kanan ride onto two maps) and partly based on logistic concerns of having more condensed maps that take up less space on the web pages and therefore take less time to load.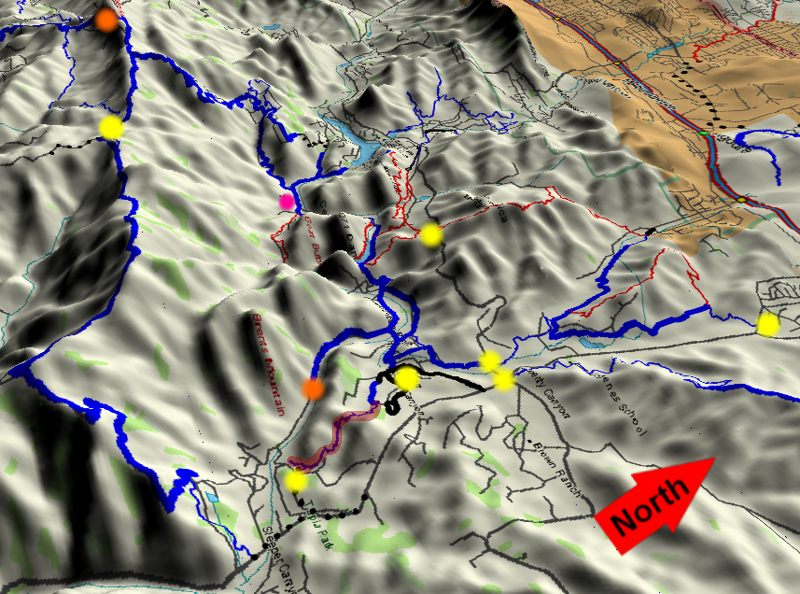 This page was last updated April 22, 2007