| | | |
| --- | --- | --- |
| Overview and Map Details for | Area Photos | |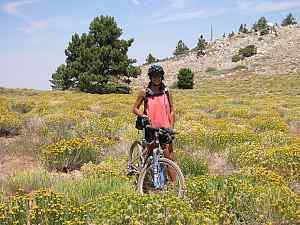 After the snow melts, there are meadows of wildflowers at the top.
Mt. Pinos Trail in Frazier Park
There's nothing like mountain biking in the pines! Mt Pinos is the tallest peak in Ventura County at 8820 feet. Although it's a strenuous ride up the mountain, it's mucho fun (especially on the downhill return). It's 99% rideable and 100% fun.
Directions: Mt. Pinos is about an hour and a half drive from the Conejo Valley. Drive north on I-5 about 25 miles beyond Magic Mountain, taking the Frazier Park exit. Turn left and go under the freeway. The road becomes Frazier Mountain Park Road after about 2/3 mile - follow it 6.25 miles until you get to Cuddy Valley Road and bear right onto it. Drive for another 5.1 miles to the parking lot where it meets Mil Potrero Hwy (FR 9N05), just before Cuddy Valley Road turns into Mt. Pinos Road. Get detailed directions using Google Maps.
Description The Mt Pinos trail is about 8 miles of steady climbing, climbing and climbing.About 80% of the trail is single track, and 95% of it is though tall pine trees. It is in pretty good shape but is too steep for novices although intermediate riders who like a real challenge might have fun. Since it's an out-and-back ride, you can turn around at any time and glide back to the parking lot. Also, until you get to a camping area about 2/3 of the way to the top, there aren't any turns so you can't get lost. Above the camping area there are a number of roads and turns so getting lost there is easy unless you're riding with someone who knows the way. Because of the altitude and the tall trees, this is one of the cooler rides in the summer. However, there are patches of snow well into June so riding too early in the season isn't recommended. Because there is a paved road all the way to the top, you can make this into a shuttle ride if you don't want to climb all the way up.

If you think this trail is steep, see how it compares to other steep trails.
| | |
| --- | --- |
| Length (miles) | 7.8 (one way) [Note: this trail has been measured at 9.2 miles by bike computer. The 7.8 mile figure from GPS mapping is probably a little low because of the challenges of receiving the satelite signals in the steep and heavily wooded areas, but the 9.2 mile figure is also probably too high because it's not likely that the GPS had insufficient satelite signal over 1.4 miles.] |
| Climb (feet) | 3300 |
| Descent (feet) | 500 |
Trail Profile Back to the Top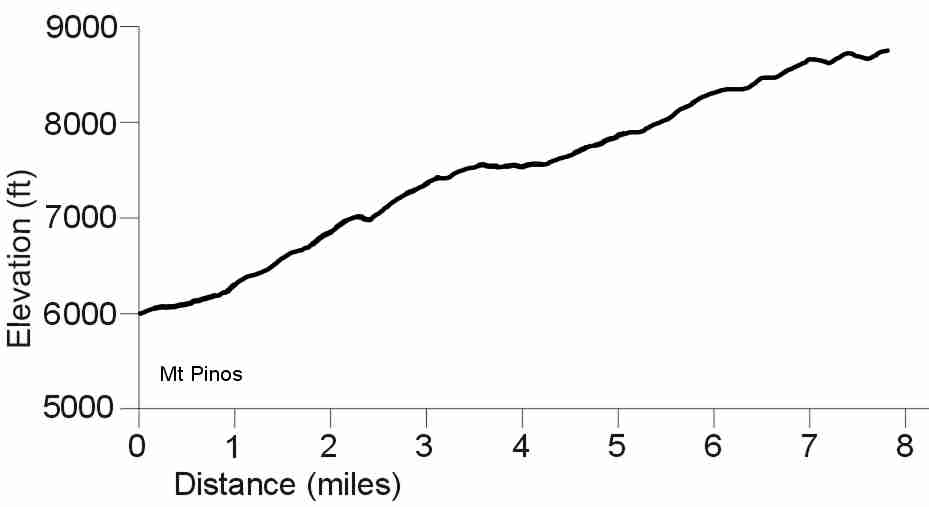 This page last updated on June 10, 2007